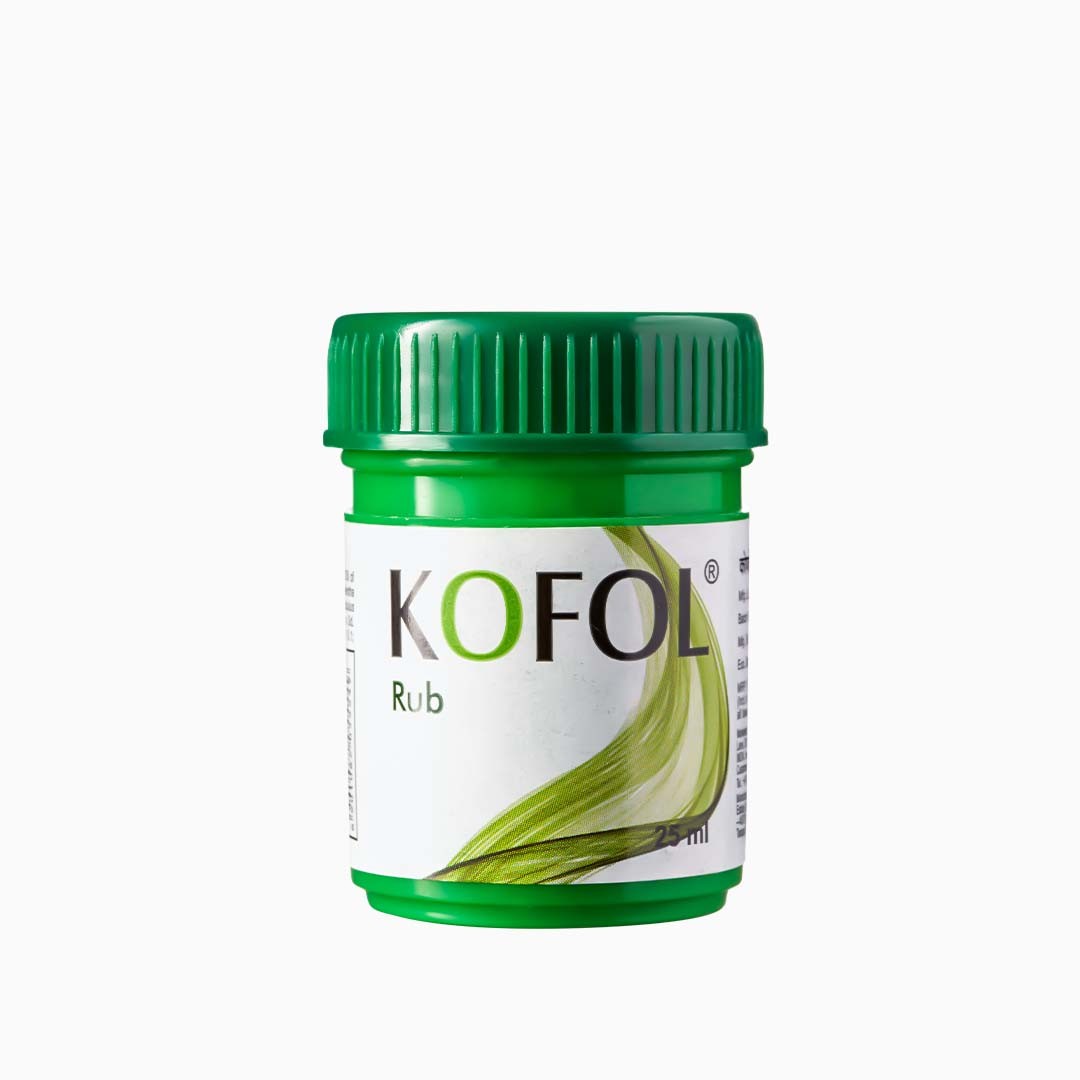 Kofol Rub
Ayurvedic Rub for Relief from Nasal Congestion
Earn
₹3.00
as Health Point.
KOFOL Rub helps provide relief from nasal congestion and cold.
KOFOL Rub contains blend of scientifically proven herbs which provide relief from nasal congestion.
KOFOL Rub acts as a vapour rub.
KOFOL Rub contains Menthol, Thymol, Kapoor, Nilgiri Oil etc which provide effective relief in nasal congestion.
KOFOL Rub contains medicated oils whose vapors enter through the nose and provide effective relief and faster comfort from congestion.

Benefits:
Beneficial in common cold, Nasal congestion
Provides relief from minor muscle ache

Dosage:
For cough, cold and congestion: Apply Kofol Rub gently over nose, throat, chest and head as and when required.
For minor muscle pain, joint pain, or headache: Apply Kofol Rub gently to the affected area.
Do not apply on open wounds and over sensitive membrane areas such as eyes, mouth & nostrils. If accidentally used, wash the area immediately with cold water and consult your physician if symptoms do not subside.
₹60.00
MRP inclusive of all taxes.
---
Description
Kofol Rub is a potent and safe herbal topical formulation for quick relief from discomforting cough, congestion and headache due to the common cold.
It contains herbal oils whose medicated vapors enter through nose and provide faster comfort in congestion. It also acts as a mild analgesic for minor muscle ache, joint pain or other body pain.
Key Ingredients
FAQs
Reviews