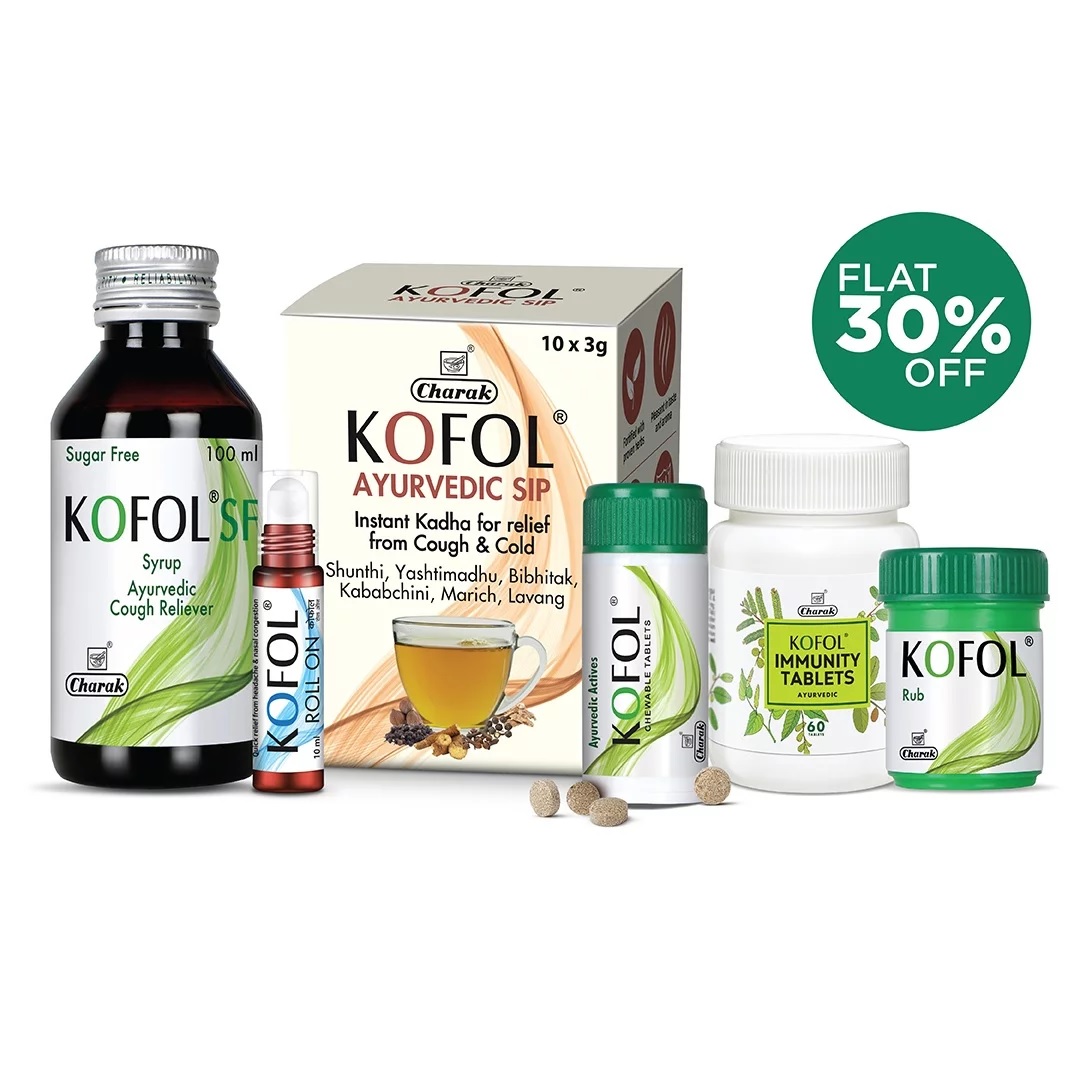 KOFOL Mini Winter Kit
Earn
₹18.00
as Health Point.
Kofol Chewable Tablets pack of 60 tablets (1 Unit): Soothing & effective relief from sore throat
Kofol SF 100ml (1 Unit): Beneficial in productive as well as dry cough, Provides relief from cough of varied causes
Kofol Ayurvedic Sip (10 Sachets): An Instant Ayurvedic Kadha for relief from sore throat, Cough & Cold.
Kofol Rub Bottle of 20.5 gm (1 Unit): A natural remedy to relieve cough
Kofol Roll On of 10ml (1 Unit): Quick Relief from headache & Nasal Congestion
Kofol Immunity Tablets (1 Unit): Strengthen the body's defense system against cold-cough and seasonal viral infections
₹540.00
₹378.00
MRP inclusive of all taxes.
---
Description
KOFOL Immunity Tablets are clinically tested 100% Ayurvedic formula with powerful herbs like: Giloy / Guduchi, Haldi, Triphala Guggul, Shunti, Manjishtha,Chitrak, Pippali and Black pepper for effective immunity boosting. It helps to stimulate the production and activities of infection-fighting cells, improving resistance towards germs and faster recovery from viral infections.
Benefits –
• Strengthens body's natural defense
• Helps promotes faster recovery from inflections
• Helps build respiratory health
Dosage: Daily 1-2 tablets twice a day.

Kofol SF contains potent herbs like Shunthi, Tulsi, Vasa and more,which are anti-inflammatory in nature. They offer a cooling effect to effectively heal and soothe your throat and give relief from the pain caused by excessive coughing. The syrup works wonders on dry, mucosal and normal cough.
Benefits –
• Beneficial in both dry & wet cough
• Reduces sore throat & cough bouts
• Non drowsy & Non Alcoholic
Dosage: 5-10ml Thrice Daily Or As Per Physician's Advice

KOFOL Ayurvedic Sip is Instant Ayurvedic Kadha for relief from sore throat, cough, cold & also improves the immunity. It is fortified with proven ayurvedic herbs.
• Sugar-Free Instant Kadha
• Fortified with proven ayurvedic herbs
• Gives quick relief from cough, cold & sore throat
• Helps fight seasonal viral flu
• Boosts immunity & improves metabolism
• Pleasant in taste & easy to use

Kofol Chewable Tablets powered with Ayurvedic herbs like Yashtimadhu, Shunthi, Pudina Sattva and more, which are anti-inflammatory in nature and offer a cooling effect to effectively heal and soothe your throat. The tablets are 100% sugar-free and are safe to be had by diabetics as well as kids.
Benefits-
• Fast & effective relief from cough & sore throat
• Helps relieve spasms associated with intense coughing
Dosage: 1-2 Tablets 3-4 times in a day

KOFOL Rub is a safe herbal topical formulation for quick relief from discomforting cough, congestion and headache due to the common cold. It contains herbal oils whose medicated vapors enter through nose and provide faster comfort in congestion.
Benefits –
• Beneficial in cough, common cold & headache
• Helps relieve nasal congestion
Dosage – Apply gently over nose, throat, chest and head as and when required.

KOFOL Roll On is safe herbal topical formulation which provides quick relief from headache and nasal congestion. It contains ingredients like Nilgiri Oil, Capsicum Oil, Camphor etc.
• Effective in just one application
• Infused with 5 powerful essential oils
• Gives quick relief in headaches
• Relieves nasal & chest congestion
• Promotes easy breathing
• Non sticky & Non greasy formula
• Convenient to carry
FAQs
Reviews