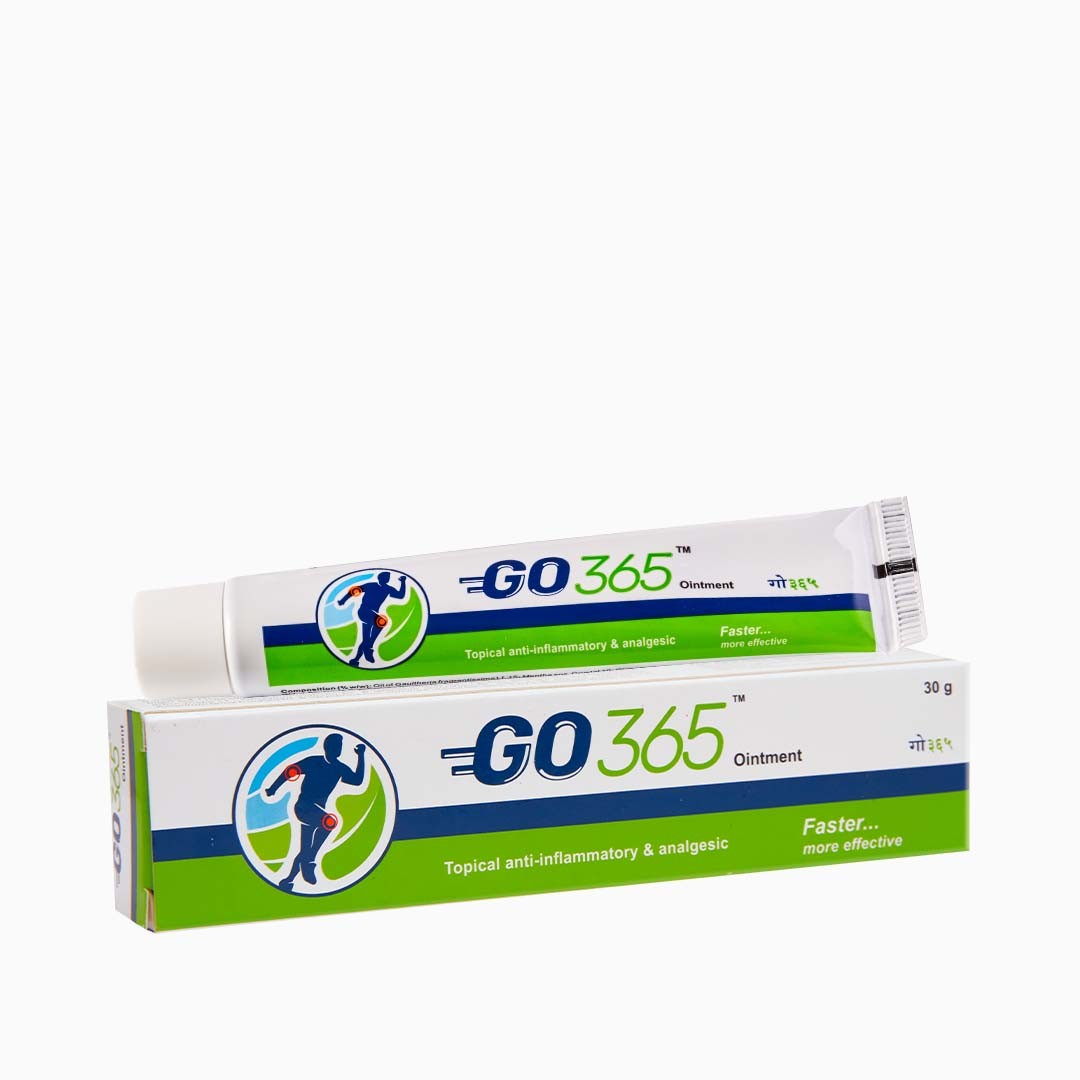 GO365 Ointment
Ayurvedic Ointment for Long Lasting Pain Relief & Healthy Joints
Earn
₹11.00
as Health Point.
GO365 Ointment is a Ayurvedic joint pain relief ointment which helps to reduce joint pains and muscular pains.

GO365 joint pain ointment is easily absorbed when gently rubbed over the skin and helps relax stiff muscles.

This joint pain relief ointment is blend of herbal ingredients like mint, capsicum oil, camphor to reduce joint and muscle stiffness and swelling.

GO365 is best ointment for joint pain as it helps in quick pain relief.

This joint pain relief ointment provides relaxation to tired, stiff joints and muscles for pain-free functioning.
Benefits:
Helps provide relief from joint pain, back pain.

Helps provide relief from sprains, muscle pain.

Helps provide warmth to the joint.

Helps improve joint flexibility

GO365 Ointment is:
Fast-acting & long-lasting.

Portable & easy to use.

How to Use: Apply sufficient quantity of ointment over skin of affected area and gently rub over it. For best results apply twice daily on affected muscles and joints.
Seeking expert guidance? Click here to book free consultation with our team of Doctors
₹225.00
MRP inclusive of all taxes.
---
---
Description
What are the Benefits of Joint Supplements?
Direction for use:
Topical/Local application only
Apply on the affected joints or body parts
Precautions:
Do not apply on an open wound. Keep away from sensitive areas like eyes, mouth and nostrils. If accidentally used, wash the area immediately with cold water. If the irritation does not subside consult a physician.
Note:
Burning sensation or rashes may appear when applied on sensitive areas. Wash off the area with soap water immediately. If it does not subside consult a physician.
Key Ingredients
FAQs
Reviews